Light It Up
The Art of Illumination Community Forum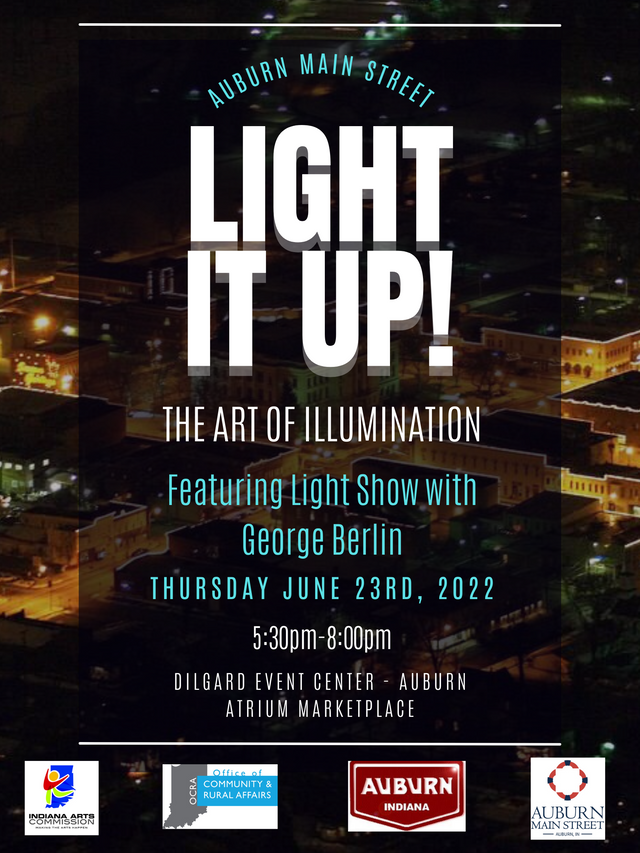 Description
Light It Up, The Art of Illumination,
Auburn Main Street in connection with Expression Gallery will hold a community forum on June 23rd, 2022, at the Dilgard Event Center located @ the Atrium Marketplace. 5:30pm - 8:00pm
We encourage all community members to participate in the engagement activities and join us as we discuss previous efforts and current ideas.

In March of 2022 the City of Auburn was awarded a $5,000.00 grant from the Indiana Arts Commission to educate and engage the community on inclusive art features.
We will have a community engagement activity with possible initiatives where you can share opinions and likes, concerns, and ideas relating to projects involved in the program.  We will also feature George Berlin who will bring a light show at the event to get us all excited at some of the possibilities and to get the creative processes flowing. 
Art features have proven to be a Cultural enhancement to areas to bring economic vitality, growth, and with illumination projects we can enhance safety, bring engagement, and activity into the evening hours. We hope that you will plan to join us for this exciting evening. Lite refreshments and heavy appetizers will be provided for this event.

# WeLoveAuburn #ArtDistrict 
Auburn Atrium Marketplace
106 W 6th St, Auburn, IN 46706
5:30 PM EDT
to 8:00 PM EDT
Private:No
RSVP Required:No
Accept Registration Online:No