November First Friday
Chocolate & Wine Tour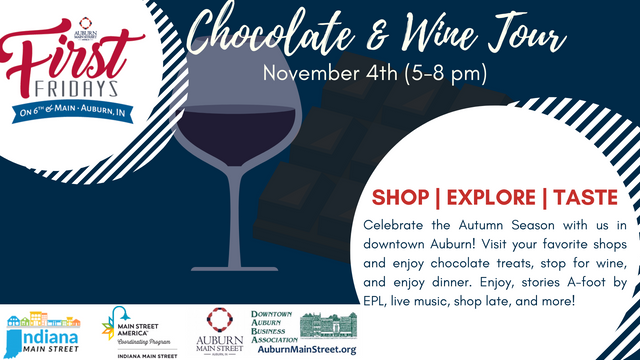 Description
November 4th First Friday is filled with fun activities from 5-8p! 
Indulge in Chocolate Goodness while visiting all the participating locations on the Chocolate Trail and Wine Tastings! This is always a favorite date night destination. Wine Tastings will be available at the Buchtel House on 7th Street. At The Buchtel House we will have Hartland Winery, Byler Lane, Cupka's Bee Good Meadery, and for food tastings there will be DHS Culinary Program, Impact Institute, and Heirloom Bakery.  Live musicians: Gabe Ackerman @ Atrium Market at The Atrium (local vendors and hand-made items)  Main Street Porch Band at 9th Street Brew. Special Milk Shakes and Theme Dessert at 9th Street Brew.   Stories Afoot by Eckhart Public Library This month's book: Love Monster and the Last Chocolate by Rachel Bright. Street Theater performances by Excelsior Arts Academy and Youth Theater. Stores open late throughout downtown.  The Olive Twist will be serving a sample flight of a Flourless Chocolate Cake with a raspberry glaze, Apple Cider Cake with Dutch Stroopwaffles with hot fudge drizzle and a Orange chocolate Texas Sheet Cake. If you need a warm beverage we will be selling cups of Kris Kringle Tea (chocolate mint).
Wine & Chocolate Sponsors: M. F. Projects Construction Management, Taylor Rental Party Plus, Betz Nursing Home, B. Winebrenner Construction LLC., Nucor Building Systems

Come Downtown Auburn and Shop | Taste | Explore what we have to offer.
Shop | Taste | Explore
2022 Annual Sponsors:

City of Auburn, Ambassador Enterprises, Downtown Auburn Business Association, DeKalb County Visitors Bureau, Team Quality, Auburn Essential Services, Links Creative Alliance, Tempus Technologies, 9th Street Brew, Beacon Credit Union, Auburn Hardwood Moldings, Oak Partners, Credent Wealth Management, Custom Coating Inc., Astral at Auburn, Steel Dynamics Inc.

Shop | Explore | Taste
Participating Locations: 

Country Lane General Store                                          
The Brown House
Fresh Food Hub
9th Street Brew Coffee House
Auburn Cord Duesenberg Automobile Museum
Auburn Brewing Company
North Main Street Diner
Kim's Korner Music & More
Birch & Bell Boutique
Classic City Cookies
Auburn Atrium MarketPlace
Pizza Forum
Franz Karate Auburn
Heirloom Clock & Fine Art
All About You Boutique
Paper Gourmet
Heavenly Creations
Forget Me Not
Little Sprouts Children's Boutique
Antiques on 5th
Cranberry Cottage Cafe & Tearoom
Auburn Elks
Bakery Boutique
Mimi's Retreat
Classic City Creamery
Nature's Mercantile
Blue Fruit Jar Antiques
The Italian Grille
Monarch: A Collection of Beauty Professionals
Auburn Moose Lodge
Mad Anthony Brewing
Carbaugh Jewelers
House of Spirits
Auburn's Town Tavern
Sandra D's Italian
The Olive Twist
Pelmear's Cake Creations
Cricket's 7th Street Bar & Grille
Sixteen:Thirteen Boutique
Cakes By Laurie
Lyn Maree's Boutique
The Cupbearer Cafe
Expressions Gallery
The Sprinkling Can Florist
Auburn Massage & Wellness Centre                                                                                                                                               Barc Ave                                                                                                                                                                                      
The Deli at 6th and Main


Downtown Auburn
Sixth and Main Street, Auburn, IN 46706
5:00 PM EDT
to 8:00 PM EDT
Private:No
RSVP Required:No
Accept Registration Online:No