Back to the Bricks
Downtown Auburn Cruise-IN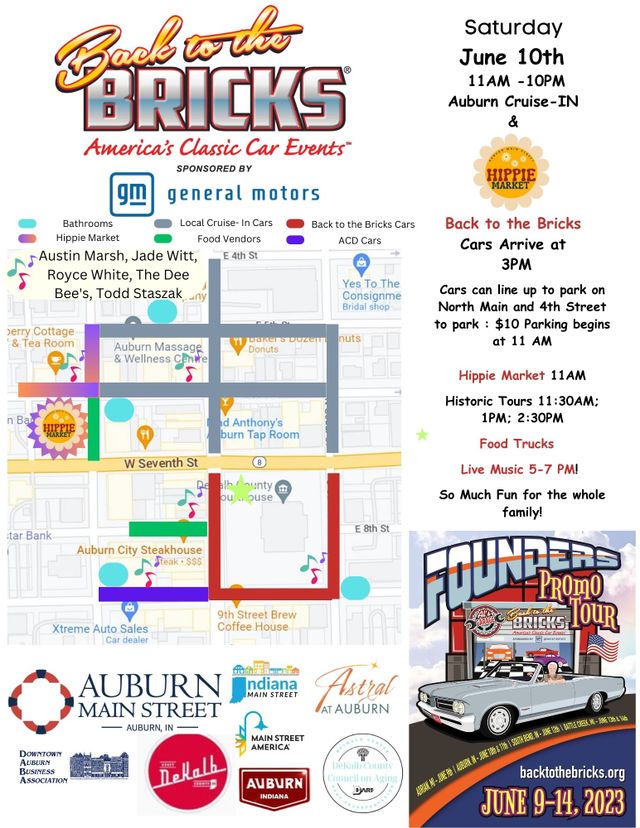 Description
June 10th, 2023 11AM - 10PM Downtown Auburn Cruise-IN.
We will host the Back to the Bricks tour downtown Auburn with over 300 cars. Starting at 11AM we will encourage local car enthusiast to bring their car downtown to come and participate in the fun for $10 for the day. We will also have a 60's Retro Hippie Market at the Plaza, Historic Walking Tour, Food Trucks and Live Music.
The name of the tour is a tribute to the route the "Founders Tour", being that it will feature optional stops at various museums that celebrate the automobile pioneers, the "Founders" of the modern-day car. The biggest tribute to the "Founders" name is to the man behind Back to the Bricks, Founder Al Hatch. Plan to Come!
Be a vendor at the 60's Retro "Hippie Market" June 10th at the James Cultural Plaza in Downtown Historic Auburn! Click below for the details:
https://auburnmainstreet.networkforgood.com/events/57267-hippie-market
Downtown Auburn
Sixth and Main Street, Auburn, IN 46706
3:00 PM EDT
to 10:00 PM EDT