Seasons Greetings from Auburn and Holiday Cheer Award; Winter Market
December First Friday 5PM - 8PM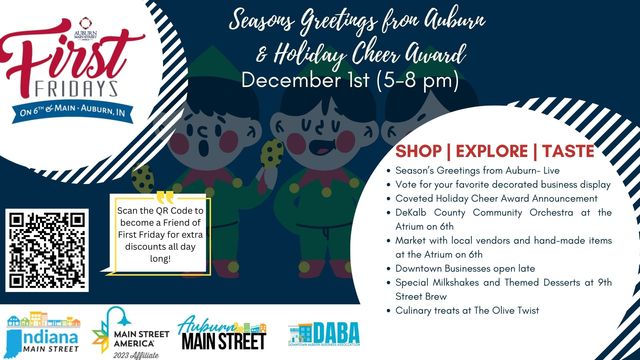 Description
First Friday Greetings from Auburn and Holiday Cheer Award Plus Winter Market December 1st 5PM - 8PM
Come to Historic Downtown Auburn and enjoy music, shopping, dine out at one of the many restaurants or bars, and don't forget dessert!
Be sure to check out the large holiday card display at Courtyard Park called Greetings From Auburn. There will be 10 Holiday cards painted by local artists on display paid for by local sponsors. If you have been following the Seasons Greetings Promotion on Facebook it is kind of a "Smallmark" Movie segments the finale will be live 6PM at Courtyard park. Come see them and see what happens!

This is a very coveted award among our downtown businesses, so vote! The winner is announced at 7PM The Dekalb county Community Orchestra will be at the Atrium Marketplace.
The Winter Market will be at the Atrium Marketplace. Scan the QR code to become a Friend of First Friday for discounts around town all day long. We hope you will join us! #WeLoveAuburn
SHOP | TASTE | EXPLORE
A big thank you to our 2023 Sponsors: Legacy Sponsor: The City of Auburn; Executive Sponsors- Ambassador Enterprises, The Hicksville Bank. Event Partner Sponsors: DCVB, 9th St Brew Coffee House, Beacon Credit Union,, Astral at Auburn, Credent Wealth Management, Oak Partners Inc., Steel Dynamics Inc., Tempus Technologies Inc., Team Quality Inc., DABA, Carbaugh Jewelers, C&A Tool Engineering Inc., The Deli @ 6th & Main, Scheumann Dental Associates, Rieke Packaging Corporation, Custom Coating Inc., Dekalb County Council on Aging | DART | Heimach. Center
Participating Locations:
Country Lane General Store
Bakers Dozen Donuts
Forever Eighteen
9th Street Brew Coffee House
Auburn Brewing Company
Kim's Korner Music & More
Birch & Bell Boutique
Classic City Cookies
Auburn Atrium Market Place
Pizza Forum
Franz Karate
Auburn Heirloom Clock & Fine Art
All About You Boutique
Paper Gourmet
Heavenly Creations
Forget Me Not Boutique
Little Sprouts Children's Boutique
Cranberry Cottage Cafe & Tearoom
Auburn Elks
Mimi's Retreat
Cupka's Bee Good Meadery
Classic City Creamery
Nature's Mercantile
Blue Fruit Jar Antiques
The Italian Grille
Auburn Moose Lodge
Mad Anthony Brewing
House of Spirits
Auburn's Town Tavern
Sandra D'sItalian
The Olive Twist
Cricket's 7th Street Bar & Grille
Cakes By Laurie
Lyn Maree's Boutique
Expressions Gallery
The Sprinkling Can Florist
Auburn Massage & Wellness Centre
Barc Ave T
he Deli at 6th and Main
The Brown House
Auburn Cord Duesenberg Automobile Museum
Monarch: A Collection of Beauty Professionals
North Main Street Diner
Pelmear's Cake Creations
Downtown Auburn
Sixth and Main Street, Auburn, IN 46706
5:00 PM EST
to 8:00 PM EST