Let's leave our LEGACY
---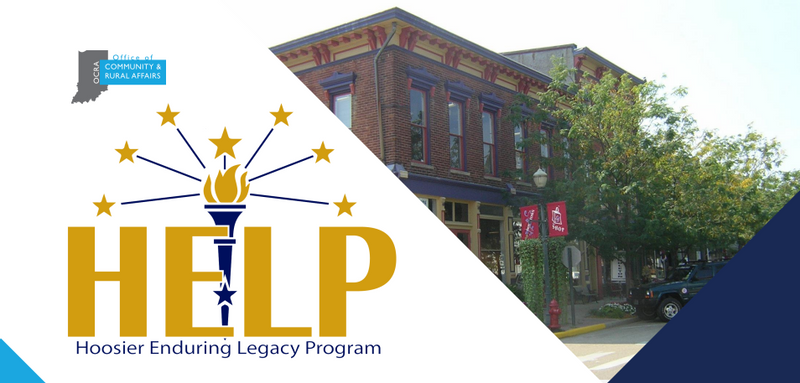 Hoosier Enduring Legacy Program
Empower our community by establishing systems for success to be resilient to future challenges


In November of 2021 the City of Auburn was awarded the Hoosier Enduring Legacy Program grant or better known as HELP. The HELP program is reimagined from the previous Stellar program while also adapting the best responses to the current challenges communities face. Indiana's Office of Community and Rural Affair's (OCRA) has collaborated with the Purdue Center for Regional Development, the Indiana University Center for Rural Engagement, the Ball State University Indiana Communities Institute, Ivy Tech Community College, and other state partners to offer this program.
This new program supports communities directly by building capacity, creating peer networking between communities, develop strategic investment plans, and provide access to set-aside funding. Through HELP we will employ community engagement, planning efforts and building strategies to prepare for the future while building local leadership. HELP is a 52-week process culminating in dynamic Strategic Investment Plan rooted in four pathways. Advancing E-Connectivity, Promoting Community Wellness, Enhancing Quality of Place, and Strengthening Local Economies. This program offers a unique opportunity in guidance for communities in spending allotments of Coronavirus Local Fiscal Recovery Funds which was created under the American Rescue Plan Act.
As part of the program the City of Auburn has reserved $1 million of its ARPA dollars to be used as matching funds for the program. The city will receive an additional $1 million in funds from OCRA to go towards the legacy project. Additional monies could also be leveraged from other grant opportunities for the project as well. The expected program impact is to reconnect the community through creative engagement opportunities. This is a once in a lifetime opportunity and we fully expect great community support for this project.
The City of Auburn will hold a Community Engagement Forum June 9th from 6:00pm to 8:00pm at McKenney Harrison Elementary School. More information to follow on this soon.


Community Forum
Be on the lookout for more information regarding our community forum.
June 9th ,2022 from 6-8pm at McKenney Harrison Elementary school. Open to all community members to attend.
For more information on the HELP program contact
Amber Haiflich | Community Coordinator | Auburn Main Street